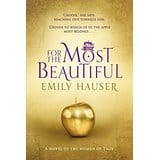 For those of you who enjoyed my novel about Troy told from the women's perspective, I'd like to alert you to a new novel, For the Most Beautiful, by Emily Hauser. It's also set within the Trojan War and focuses on the women. It is a tribute to the richness of the myths and Homer that Emily's and my understanding of the characters is so engagingly different. I loved meeting Emily's Briseis, Mynes, Achilles and Agamemnon, and I think you will too. Here's the blurb I wrote for this wonderful novel:
Hauser brings to life the women of the Trojan War in a vivid, fast-moving story. While tradition recorded only the deeds of men in this most famous of wars, Hauser's legendary women show us heroic feats of courage, passionate love, deep wells of grief, acts of self-sacrifice and a tenacious insistence on hope. Her chapters populated by the gods of Olympus are pitch perfect: their self-absorbed, shallow toying with human life acts as a satiric counterpoint that enriches the emotional impact of this remarkable reworking of the mythic tradition that started with Homer.
Click here to buy For the Most Beautiful on Amazon

Click here for Emily Hauser's website.