I'm sending out my weekly post early because as of Friday morning I'll be totally absorbed with the 2015 Historical Novel Society Conference. It's an action-packed weekend and I hope to catch up with many historical fiction friends in between all the activities. I'll be taking a sword and dagger workshop (to write better fight scenes, but hopefully not to kill myself during), participating in a panel, Midwifery: Magic or Medicine, with Diana Gabaldon, Sam Thomas, Lisa Yarde and Kim Rendfeld Saturday 2:30. I'm signing and placing the Hittite Royal Seal on copies Hand of Fire for readers from 5-7pm Saturday, and that part's open to the public, so everyone in Denver should come on by. The list of authors signing is on the graphic below this paragraph. I'm part of the after-dinner entertainment Saturday night with a reading of a love scene from Hand of Fire. There are so many panels I want to go hear that I can't fit in half of them. And I'm pitching Blessed by a Curse to an agent at a time that I won't know until I get there.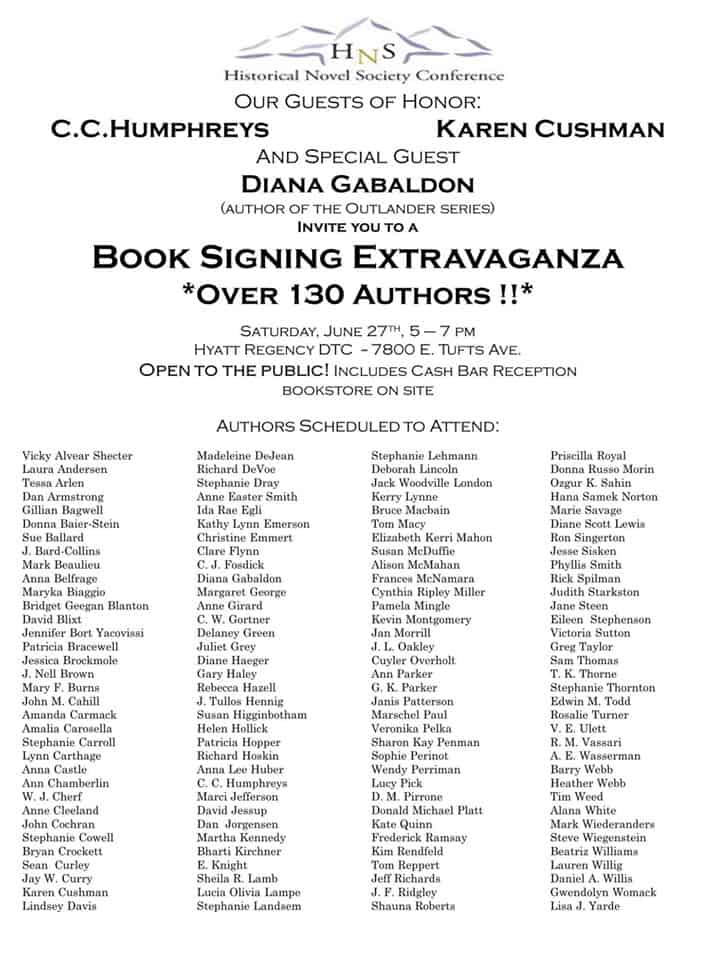 Here are some posts I enjoyed this week: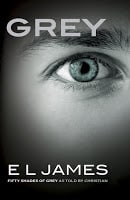 "Fifty Shades of Bad Reviews" January Magazine sums up the critical reaction to E. L. James's latest. I do love some of the comments. From January's article: According to the Telegraph, the result is "as sexy as a misery memoir". "How often do Ana's cheeks flush pink?" writes Bryony Gordon in her one-star review. "How many times does she make him feel ten feet tall? "And he really should go and see someone about all that prickling his scalp does." I don't think James cares whether she gets good reviews or bad. She's selling lots of books for reasons that have nothing to do with the quality of her writing. Maybe she can pay for her character to get that prickle problem taken care of. Click here for January Magazine "Fifty Shades of Bad Reviews"
A great post from Nancy Bilyeau: This day 1529 Catherine of Aragon pleaded with Henry VIII not to dissolve their 20-year marriage at the court before the cardinals at Blackfriars. Her blog post about searching for the lost world of Blackfriars: Click here for "Listening to Blackfriars" by Nancy Bilyeau on English Historical Fiction Authors
Let's hope the cartoon in this post is not the future of literature. Last week I noticed R&J has been "translated" (reduced?) into tweet-speak. So maybe we shouldn't laugh so hard at poor Mr. Dickens here. His works may truly be next. Via Janet Rudolph Click here for Cartoon of the Day, Twitter Novel on Janet Rudolph's Mystery Fanfare
Now I know why in my ancient mystery, the Egyptians are one of the enemies. A catacomb next to the Egyptian temple of Anubis, the dog-like god of death, contains 8 million mummified dogs. Most are puppies which were allowed to die of starvation in order to supply the "tourist" trade with offerings. Yuck and more yuck. I hope my dog Socrates is not reading this.
Ancient religions can be pretty weird. I'm having to explain about swinging a ewe over a mother during delivery on my panel on midwifery this weekend. It was just the thing to get rid of evil that might harm the baby… But no dogs will be harmed! And who knows what they did with the poor dizzy sheep afterwards. Click here for "8 Million Dog Mummies Found in Egyptian Catacomb" on Archaeology News Network
Mystery cults in ancient Greece. An intriguing post about an exhibit going up in the Acropolis Museum in Athens this summer "Samothrace: The Mysteries of the Great Gods" Details in this article about the mystery religion at Samothrace, the practices, set up of temple, and a conjecture about Minoan influence. If only someone hadn't kept their vow of secrecy quite so thoroughly. We'd all love to know so much more about the mystery religions of ancient Greece. Here's a small window into this intriguing, well-kept secret. Click here for "Acropolis Museum Celebrates its Sixth Anniversary with Antiquities from Samothrace" on the Archaeology News Network 
Spring in the Sonoran desert: creatures, sky & plant life. Gorgeous photos by Melissa Crytzer Fry, although sad to say, spring is long gone in our desert world here in Phoenix. Click here for Melissa Crytzer Fry "Spring Memories"