The 2013 Historical Novel Society Annual Conference will be held in St. Petersburg Florida, June 21-23. To promote the conference, I'm hosting three interviews with authors who will be featured speakers at the conference. The third of these is with author Kris Waldherr.
Bio
Kris Waldherr is an author, illustrator, and designer whose art has been exhibited in the National Museum of Women in the Arts. She is the acclaimed author of Doomed Queens, The Lover's Path, and The Book of Goddesses, and best-selling creator of The Goddess Tarot. Her upcoming publications include her debut novel The Lily Maid. She lives in Brooklyn, New York with her husband, anthropologist Thomas Ross Miller, and their young daughter.
For more information, go to Kris Waldherr's website.
About her book, The Lily Maid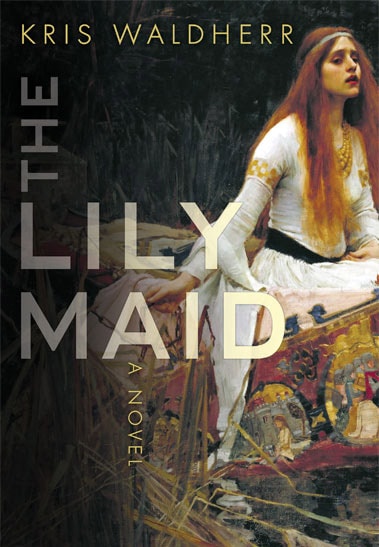 Kris's newest book is a novel set during Victorian England's Aesthetic art movement—a seductive, beauty-obsessed world where the sinuous graces of peacock feathers and absinthe dreams hold more importance than a young woman's life.
Inspired by Waterhouse's beloved painting of the Lady of Shalott, The Lily Maid tells the story of Elizabeth Sirini, the impoverished spinster daughter of a recently deceased scholar. Desperate to make ends meet, she agrees to model as the Lady of Shalott for a charismatic artist and his wife. Initially, Elizabeth is disdainful of the artist and his circle. But, as the painting progresses, she becomes seduced by the power and wealth her role as muse brings. She is also disturbed to find life imitating art when a spiritualist photograph leads her to discover a mysterious tragedy involving the artist's previous model, Eleanor.
Elizabeth's obsession with discovering the truth about Eleanor brings secret histories and shifting loyalties to light. Love and artistic inspiration become a currency to be used and discarded at will, even if the gothic consequences include heartbreak and death.
Interview with Kris Waldherr
What are your favorite reads? Favorite movies?
I have to say my favorite book is JANE EYRE. I probably reread it every two years or so. I consider it the feminine ur-text—it's hard for us, as twenty-first century inhabitants, to understand how revolutionary and shocking the character of Jane was to nineteenth century readers. In terms of contemporary novels, I adored Sarah Waters' FINGERSMITH and A. S. Byatt's POSSESSION. In terms of historically set films, I loved ORLANDO and TOUS LES MATINS DU MONDE. Both are so gorgeous and moving.
Is there a writer, living or deceased, you would like to meet?
Though he's both writer and artist, I desperately wish I could have met Dante Gabriel Rossetti, the founder of the Pre-Raphaelite art movement in Victorian England. In terms of influence on his artist cohort, I imagine Rossetti being a bit like Elvis Presley, with a "thin Elvis" and "fat Elvis" period. As a young man, Rossetti was incredibly charismatic, handsome and a bit of a trickster; he was an Italian in London, so some considered him exotic as well as a bit suspect. When older, Rossetti took on a bit of weight, dabbled in spiritualism and had a serious substance abuse problem, some believe in response to guilt over the death of his wife, Elizabeth Siddal, who died from a self-administered overdose of laudanum after the still birth of their daughter. I'd like to have met Rossetti during the early 1850s—his "thin Elvis" period, if you will—when he was still filled with idealism and rebellion. And oh, those early watercolors and poems were just so romantic!
What book was the most fun for you to write?
DOOMED QUEENS was the most fun perhaps because the subject matter was so serious: women who lost their thrones. Strange, no? I think I knew that if I treated things too seriously the book would be too depressing. I'm very fond of Victorian-era graphics, so I designed and illustrated DOOMED QUEENS to look like a cautionary pennydreadful of that era; I'm especially proud of the paper dolls hidden inside the French flaps. In terms of research, THE LILY MAID was my favorite since it required several research trips to England. I adore travel and on site research. I even visited a Victorian era asylum in Gloucestershire, which is now a school for in-transition teenagers—a decidedly eerie experience.
Can you tell us about your latest publication?
KW: I've just finished edits for THE LILY MAID, my first non-illustrated book and debut full-length novel. Set during late Victorian England's Aesthetic art movement, THE LILY MAID is about a young woman who models as the Lady of Shalott for a famous artist; life begins to imitate art when she uncovers a mysterious tragedy involving the artist's previous model. Not one to let grass grow under my feet, I've already moved onto researching and writing my second novel, which takes place in 1850 England and France. It's darker yet more romantic than THE LILY MAID, featuring a protagonist who is a postmortem photographer.