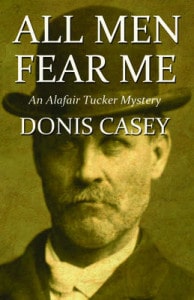 I'm a fan of Donis Casey's Alafair Tucker mysteries set in Oklahoma. Her series starts with The Old Buzzard Had it Coming in 1912. With this latest, Casey moves us up to 1917 when WWI is casting a long sinister shadow on Alafair's large family in Boynton. The newly established draft and pro-war sentiment threatens to pull her older boys and her daughters' husbands into the kind of danger that Alafair won't be able to protect them from. That is a tough situation for a mother who for years has used her intelligence and her no-nonsense ability to solve murders to keep both her ten children and the residents of Boynton safe from false accusations and genuine threats.
But while the European violence lurks in the background, the war on the home front takes center stage. The town is split between those who think any hesitation in patriotic participation reveals a German sympathizer and those who oppose the war. Then mix in fights over unionization, conflicts arising from rural poverty and a mysterious man in a bowler hat who seems intent on causing trouble. Casey never settles for the simplistic answers. I loved this intense window into the American home front at this crucial moment in US history. We face many of the same issues in our culture today. Casey gives us the fullness of history without ever losing the page-turning excitement of a mystery.
Casey's books offer much more than a who-dunnit—although I always enjoy watching Alafair figure out who the real culprit is. This latest novel continues the historical richness and depth. This time the sophisticated layer of history involves the notion of public opinion—that fearful force the "all men fear" and how it can transform a cooperative society like the town of Boynton into a self-destructive mob. Defining patriotism is a tricky process and not all the residents of Oklahoma come up with a subtle and intelligent understanding. Vigilantes go after citizens with German-sounding names and see spies hiding everywhere. The brick company suffers from sabotage and shift supervisors turn up dead. There is real danger and death, so just where do the boundaries lie? Who are the good guys and who the villains in time of war? And what about the enthusiastic patriotism of young Charlie Tucker, 16 years old and sure he knows who is at the heart of the trouble. You'd guess right if you realize Alafair is never going to let her son face that alone, no matter how much he tries to slip away from her mothering.
Casey immerses her readers so deeply into rural Oklahoma at the opening of the twentieth century that you feel like you're a member of Alafair's extensive family. Every detail rings true from the daily tasks that her characters engage in to the dialogue. I love Casey's combination of family dynamics, Oklahoma farming know-how, multi-dimensional characters, sophisticated twists on history and moral dilemmas, and good old-fashioned mysterious murders.
Order All Men Fear Me at The Poisoned Pen Bookstore  or Amazon All Men Fear Me: An Alafair Tucker Mystery (Alafair Tucker Mysteries)
Visit Donis Casey on her website or Facebook.