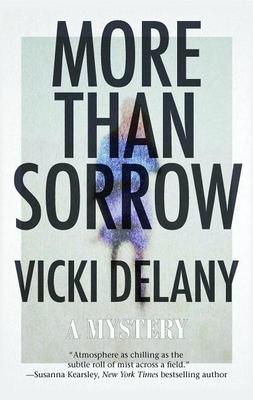 Women who have lost their freedom to act according to their own choices—that's the theme of Delany's More Than Sorrow. Delany has interwoven the stories of Hannah, Hila and Maggie, moving across time and place to present three quite different ways in which women lose their autonomy. Hannah is an international reporter at the top of her field. She should have complete liberty to conduct her life as she wishes. However, an IED in Afghanistan has left her brain impaired enough that she isn't able to live independently. She stays with her sister's family on their small organic produce farm in Prince Edward County, Canada. It's an idyllic setting for recovery—on the surface—but underneath there's trouble. Hannah begins to sense another woman's history coming to her in ways she does not understand, although perhaps the old family letters and journal she's been reading in the attic are triggering these thoughts. Maggie's life begins to unfold in parallel to Hannah's, and we learn she was married to a Loyalist during the Revolutionary War and lost all that mattered to her, ending up on this plot of land when she had no other place to go—rather as Hannah has. And then there's Hannah's quiet new friend, Hila, who is a refugee from Afghanistan who's been taken in by the neighbors. For both Hila and Hannah, there's solace in their silent walks, an understanding of the violence that's marked them both in the same region of the world. Hila's world is constricted by her traditional Afghani view of appropriate behavior for women, but even more by fear she cannot escape even in the peaceful woods of Canada. All three women are in some sense refugees from the world where they belong. In counterpoint to these three restricted women, Delany depicts Lily, Hannah's ten-year-old niece, who is full of life and joy and is very much at home in her environment, but even her liberty becomes threatened.
There's a modern murder mystery to solve, along with secrets, ghostly presences (Delany views it as a modern Gothic and I agree), and some historical fiction with Maggie's strand. Plenty of action and suspense, but to me the sustaining force of the book lies in the way we are invited to think about women and the interplay between courageous acts of independence, garden-variety daily repression across centuries and cultures, and villainous acts of suppression. Being a woman can be tough. Nice to meet some female characters who face the job with courage even in the midst of tragedy.
The publisher provided an electronic galley for this review.